This weekend I got to spend some time with a friend who I went to high school with and we re-connected at our reunion a couple of years ago.  She actually became one of my best custom jewelry clients, too!  We took a trip over to Berkeley, where I hadn't been to in several years.  She took me to lunch at a fantastic Mexican restaurant called Picante and we had the most amazing vegetarian tameles.  I'm not vegetarian, but the butternut squash tamales are to die for!  Even their tortilla chips are like nothing I've ever had.  Picante uses certified, non-GMO ingredients which makes it even better.  You can even order their food online!  If you ever have the opportunity, go there!  Their staff is very nice and you have your choice of gorgeous indoor seating or beautiful outdoor seating, which is what we did.
After lunch, we headed over to Shattuck Avenue to visit Baubles and Beads, which was our primary purpose for heading to Berkeley on Saturday.  I honestly have to say that while they have a beautiful selection of beads, semi-precious stones, gemstones and a lot of supplies, they are very pricey compared to the prices at General Bead and Beyond Beads in San Francisco (my two favorite bead shops ever!).  I did manage to find some great frosted Czech glass and Sea Glass for a reasonable price.  There was so much I wanted to buy there, but with the prices being so high I figured I'd be foolish to spend my money there and get so little.  I'm figuring that their high prices are because they're the only game in town and I'm sure the rent in Berkeley isn't cheap.  Plus they had about four employees working there on Saturday and they did seem pretty knowledgeable about the business.  So I'm not going to badmouth the place and say not to shop there.  I actually think it's a great little shop and if you have the funds, more power to you!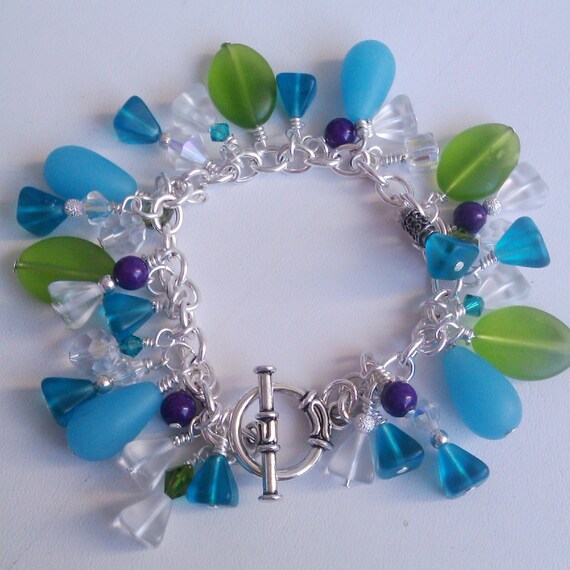 Here is an Oceanic Blue and Green Sea Glass and frosted Czech Glass bracelet I just completed from materials which I purchased at Baubles and Beads, which is mixed with Swarovski and Czech crystals.  The sea glass is in aqua blue drops and olive green ovals and the frosted Czech glass beads are pyramid-shaped in clear and blue zircon.  There are even some beautiful purple jade beads mixed in.  I just listed it on Etsy and it's available for $44.23 with free USPS First Class Shipping.     Take Me To The Listing
After bead shopping, we headed over to Philz Coffee, which is just down the street from the bead shop.  Philz is the most wonderful place to order a fresh brewed coffee drink and they brew each cup individually!  You can also purchase some of their coffee beans in various weights.   What makes it an even greater coffee experience is the very friendly and down-to-earth staff they hire.  Nicest people in the coffee biz ever!  When Peter and I were  living in San Francisco, I used to frequent the Philz on Van Ness quite often and I was sad when I found that there isn't one on the Peninsula.  It had been a couple of years since I had the opportunity to visit Philz, so when I saw that there was one in Berkeley, it was a must-do.  While we were at Philz, the barista did mention that a Burlingame Philz Coffee was being planned, which is so awesome since I'm right in Millbrae!
Not only did we have a great day just being in Berkeley, but the weather was absolutely beautiful.  This was a good thing, since Sunday was rainy – but I'm not complaining about that one bit since we've barely saw any rain in 2013 and so far this year.  I know that many will agree that more rain is much needed around here, so bring it!  After all, droughts are no fun.
In light of having such a great weekend and with everything being so "charming", I've put together an Etsy Treasury this morning called "Positively Charming", which features nothing but beautiful handmade charm bracelets.  You can check it out below, or see it on Etsy!
Also, check out what's on sale this week on the new Weekly Sale page.
Have a great day!!!
All the best,
Mark
I love charm bracelets and these beauties are some of my favorite finds.