Since I opened my bead shop on Etsy, Markalino Supplies, I've been amazingly busy with orders!  I'm not complaining one bit, as to be honest, I'm thrilled!  Comparatively speaking, it's quite a bit busier than my jewelry shop, Markalino Jewelry.  However, a sale or two trickle in here and there, so I'm not in too bad of shape.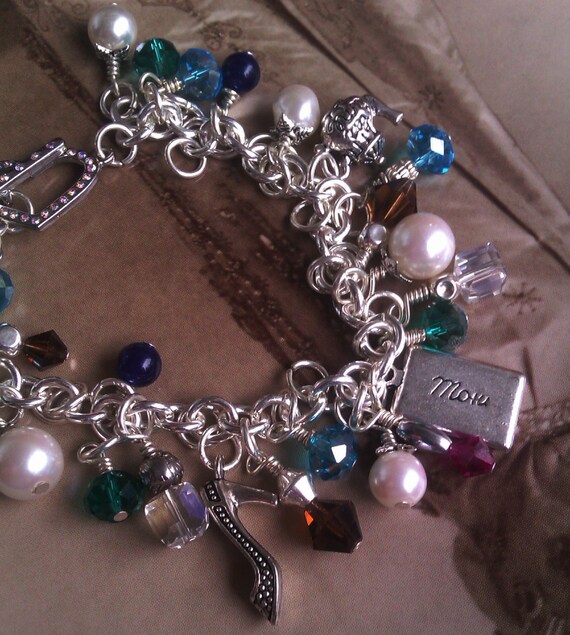 I have been working on new jewelry projects lately, some of which have posted like this one-of-a-kind silver Mom Charm Bracelet, a great gift idea for Mother's Day, which is on Sunday, May 11 this year.  It contains Swarovski and Czech Crystals, Purple Jade, Glass Pearls and some cute charms, such as a "Mom" envelope with a heart on the back; a high-heeled shoe; a teapot which says "Tea Time" and a fancy clothing hanger.  The clasp is a heart-shaped toggle with rhinestones in both the heart and the bar.  I'm offering it for only $40!


There are other new pieces which I haven't yet listed, such as this Steampunk Inspired Bib Necklace, made from gear-type objects in mixed metals, which meet with a gold chain that ends with a toggle clasp.  

Also Steampunk inspired is an Antique Copper "gears" bracelet which has a larger gear in the center which bears an 8mm Swarovski Jet Bicone crystal.  I completed it with an Antique Copper "twist" toggle clasp.


In my bead shop, I've gotten into making handmade charms out of gemstones and crystals.  Here are a couple of the handmade charms I've made recently.
Along with that, I've been doing some transcription on the side through a friend so I can bring in some additional income, which will be very helpful.  Like I've said before, I'm busier these days than when I worked for a company!  Now if I could only generate the same amount of income!

I have another post coming up featuring a very talented artist who does some amazing dark art, but if I don't post after that over the weekend, please….have a fantastic weekend!

Mark