Hi Everyone, sorry I haven't posted in a while, but I've been tending to some personal matters with family.  My mom had a mini-stroke this last week and she was in the hospital overnight.   Then, I wasn't feeling so well and was laid up in bed for a couple of days.  Then today I went back to mom's because my aunt and uncle from South Dakota are visiting, but when I got to the house it was just mom there.  She seemed to have come down with some sort of flu bug, or like she mentioned, when she was in the hospital they weren't giving her the same medication for her hiatal hernia and it may have caused a flare up.  I ended up staying with mom until around 10pm this evening and then went grocery shopping at Lucky.   I was so happy to find Peet's Coffee on sale for $7.99!  Needless to say, I had to get some since usually I can afford Gevalia, which isn't actually too bad.  I just love the rich and bold taste of Peet's.  My husband is out for a while this evening, but said he'll be heading home shortly.  I'm glad he went out to let off a little steam after what seemed to be an endless nightmare for him at work this week.  I came home after my grocery shopping and put a Freshetta pizza into the oven and just enjoyed half, but I'm saving the other half for my husband for when he gets home.
I'm having an Easter Weekend Sale in my Esty shop, Markalino Jewelry, where you get 25% off of orders $10+ with coupon code EASTERWKND25
Also, I'm having a 15% off sale at Markalino Supplies with all purchases $5+ with coupon code EASTERWKND15.
Both coupons expire on Monday, April 21st.
I have found some time lately to work on a couple of jewelry creations.  The first one I'm going to show you is a bracelet and earring set which actually sold the day after I listed it, which really made me happy.  It consists of rubberized glass beads and some Czech crystals, glass cubes and elephant charms.  The earrings have a heart-shaped base with an elephant in the middle, plus more of the rubberized beads and glass cubes with Swarovski AB crystals added.  The customer is very happy with the set and is excited to wear it while she's back on the east coast to visit her family.
Here is the set:
Another piece I just recently listed is a butterfly necklace in antique bronze.  The butterfly focal piece has crystal rhinestones and in the necklace are round and cube Czech crystals in purples, blues and greens.  This necklace is still available in my Etsy shop for $45.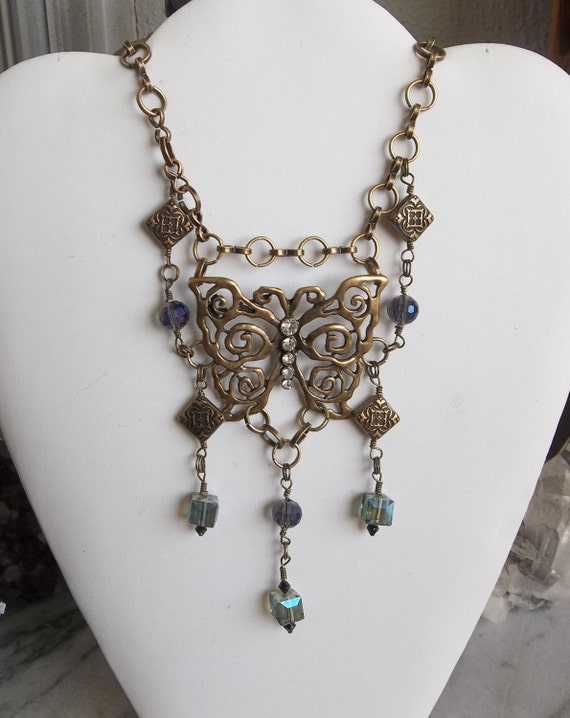 And lastly, I took a vintage Lenox mini-vase, "Iris", and embellished it with Swarovski flatback crystals.  Every so often I do a piece like this.  It is also
available in my Etsy shop
.  I am offering it for $29.99.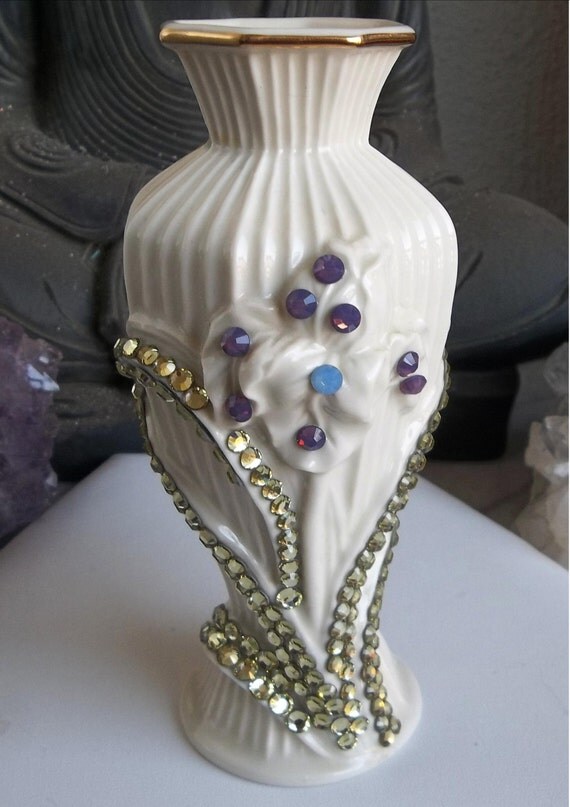 So, that is about it for tonight. I'm about to turn in soon and hopefully have a great night's rest.