To me, brooches are fabulous.  They each offer such character and compliment an outfit with such grace and beauty.  And I've just listed some wonderful vintage brooches at Markalino Jewelry!
Yesterday I had listed two newer vintage brooches from the Joan Rivers Classics collection, both being Russian style brooches.  Ironically, I then learned that Joan had been hospitalized after she stopped breathing during throat surgery yesterday.  This news saddened me, as I adore Joan Rivers.  Thankfully, Time announced this morning that she is "resting comfortably" in a New York City hospital.
One of the Joan Rivers brooches is of a Russian Cossack Dancer in pristine condition.  It has remarkably rich jewel tone enameled colors in vibrant red, purple, blue and green.  A simulated pearl is the head and clear Austrian crystals accent the coat. It's made of either gold plated brass or steel and measures at approximately 2″ long x 1-7/8″ wide.  It has the Joan Rivers hallmark on the back.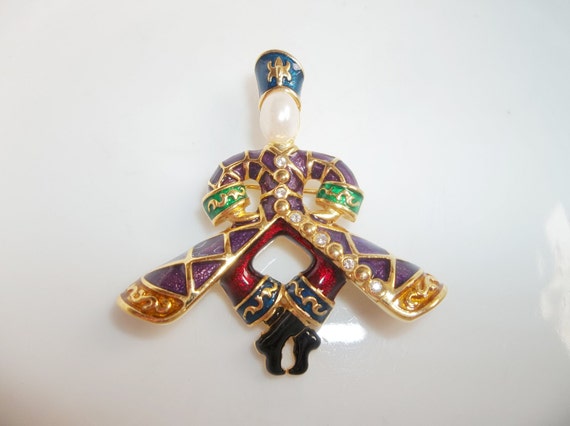 The next of the Joan Rivers Classics Collection brooches is the Russian Onion Dome which features a cross motif.  It is made up of four Russian onion domes in brown, green, and topaz colored enamel. The gold plated brass (or steel) pin also has an emerald cut deep green crystal center. It is a joint and catch coil pin that measures at approximately 2-1/4″L x 2-1/4″W and bears the Joan Rivers hallmark on the back.  This is also in pristine condition.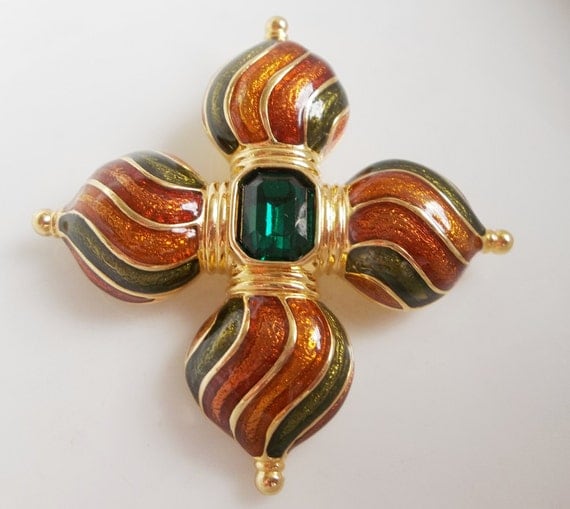 Now going further back in time is this Vintage 1970's Joanette Jewelry Art Deco Flapper Brooch in brushed gold.  It is in pristine vintage condition and is signed JJ for Jonette Jewelry on the back. It measures at approximately 2.5″ h by 1.5″ w and is a joint and catch coil pin.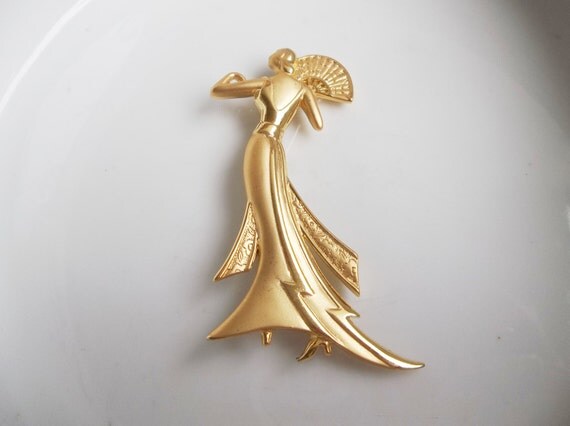 There is also this gorgeous Vintage 1980's .925 Sterling Silver and Marcasite Butterfly Brooch available, which is 1.25″ W by 1″ H and is a joint and catch coil pin.  It is also in excellent, pristine condition and has the 925 marking on the back.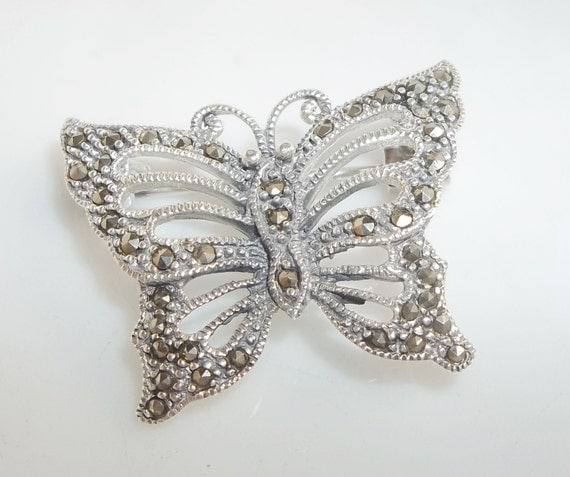 There are a few more vintage brooches that I've added to my shop, so why not stop by and check them out!   Go there now.
Well, I'm off to have my car's smog certification done today.  I hope everyone out there has a wonderful afternoon.