Antiqued Bronze jewelry is something I think is gorgeous.  It possesses a vintage quality, giving it the look as though a piece been around for centuries.  I always see Antiqued Bronze jewelry as though it comes from the times of Camelot…rustic looking and worn by people who knew magic.
Lately I've been working on industrial-style and Steampunk-inspired jewelry and have come up with a couple of fun necklaces that possess an antiqued look.  They're actually made of Antiqued Bronze plated brass.
The first one is this Steampunk Antiqued Bronze Necklace with Flourishes.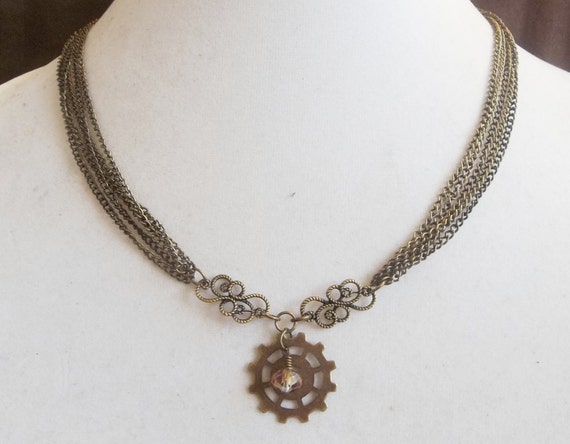 The focal piece is a 1″x1″ Steampunk gear with an 8mm Champagne Czech Crystal Rondelle in front. The gear connects to a beautiful Antiqued Bronze plated brass flourish on either end, leading up to five strands of Antiqued Bronze plated brass thin chain. I completed this necklace with an Antiqued Bronze plated brass flower toggle clasp.
____
The next necklace I made is a Steampunk Necklace in Antiqued Bronze with Gears and a Jet Swarovski Victory Crystal.  The focal piece is a 3/4″ x 3/4″ Jet Swarovski Victory Crystal, which connects to four strands of antiqued bronze plated brass link chain, with a rollo chain in the middle of the same material. all leading up to 1″x1″ Steampunk gears. The gears continue on to connect with single strands of the same chain. I completed the necklace with a lobster claw clasp and ring.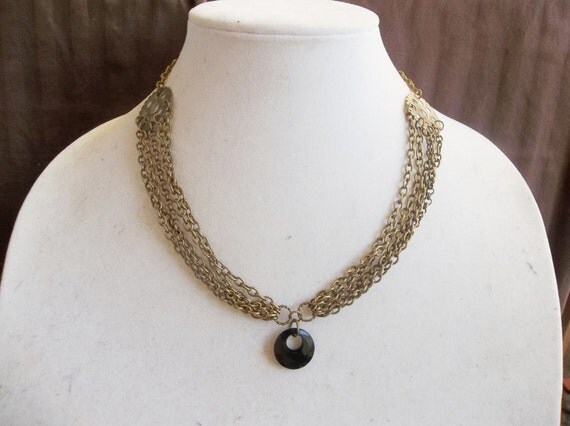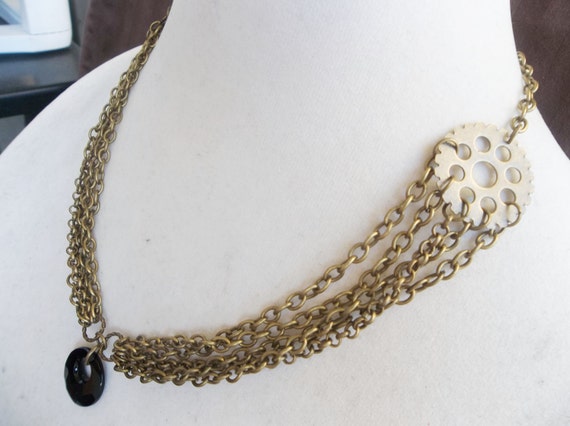 Now I know that most people think that all I do are statement pieces, but that is not true!  I am actually embarking on a simpler piece adventure and will be designing simple yet beautiful pendant necklaces.  Here is the first one: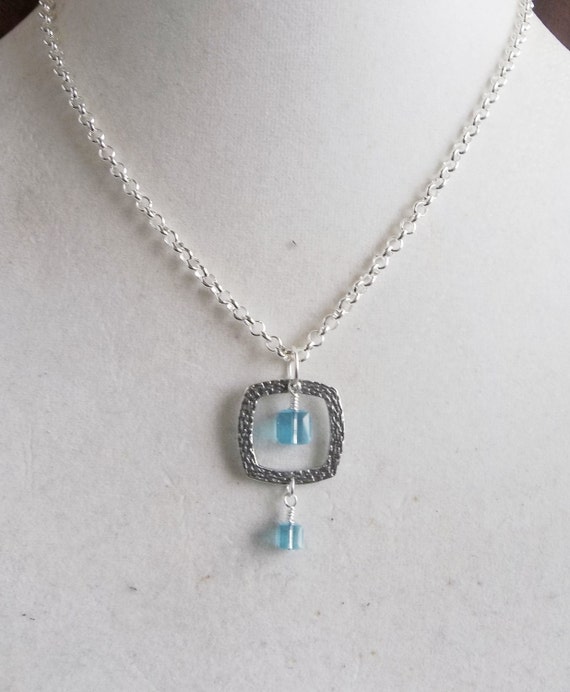 A modern pendant necklace in Silver Plated Brass, which features an antiqued silver plated brass hammered square component that houses an 8mm Swarovski Aquamarine faceted crystal cube in the center. Underneath hangs another of these crystal cubes in 6mm size. Aquamarine is the March birthstone color!  The chain is a silver plated brass 4mm rollo chain, which I completed with a lobster claw clasp.
Each of the necklaces shown in this post are my own one-of-a-kind pieces which are available at Markalino Jewelry on Etsy.
While I will always create new, bold statement pieces, I have gotten requests from friends and customers alike to create some simpler things and keeping an open mind to new ideas is something that I find important!  It's a pleasure to expand and grow in my art.