There are some great colors for Fall 2015 fashion and it doesn't stop with clothing, but there is some fantastic jewelry, too!  And it can be found right on Etsy, which makes it even greater.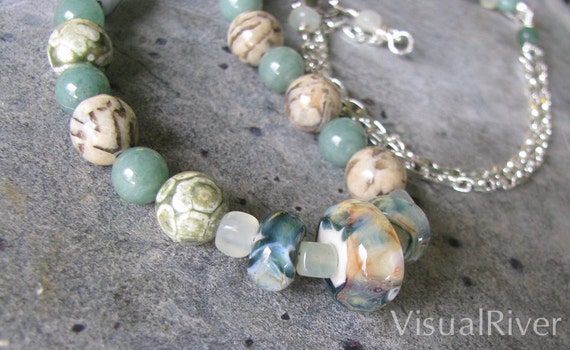 One of the colors for Fall 2015 is Desert Sage and this Desert Sage Necklace in Natural Stones and Handmade Boro Bead is a great example of that.  It's by visualriver on Etsy of Tucson, Arizona.  It's a one-of-a-kind, handmade single-strand necklace with natural stones in Desert Sage colors, centered with a handmade Boro bead. The colors will go with many things in virtually any wardrobe.  It measures at 29-3/4″ long.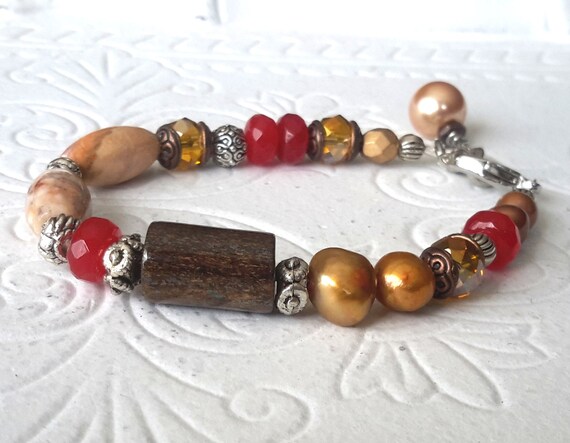 Three more colors for Fall 2015 are Oak Buff, Marsala and Cadmium Orange, which have been artfully combined in this Oak Buff and Marsala Mixed Gemstone Stackable Bracelet by SmallPotatoesJewelry on Etsy.  Inspired by this Fall's Pantone color palette, this bracelet incorporates Oak Buff (golden fresh water pearls, amber crystals), Marsala (ruby rondelles), a touch of Cadmium Orange (conglomerate jasper), and earthy brown (bronzite). A few fresh water pearls in a brownish color and a matte gold faceted bead also make an appearance, and a beautiful gold glass pearl weight the extender.  Mixed copper and silver add to the organic and earthy feel of this bracelet.  Made simply, so as to be worn stacked with old favorites, new ones at SmallPotatoesJewelry, or by itself.  Made for a 7″ (approximate) wrist with a stainless steel lobster clasp and a short extender.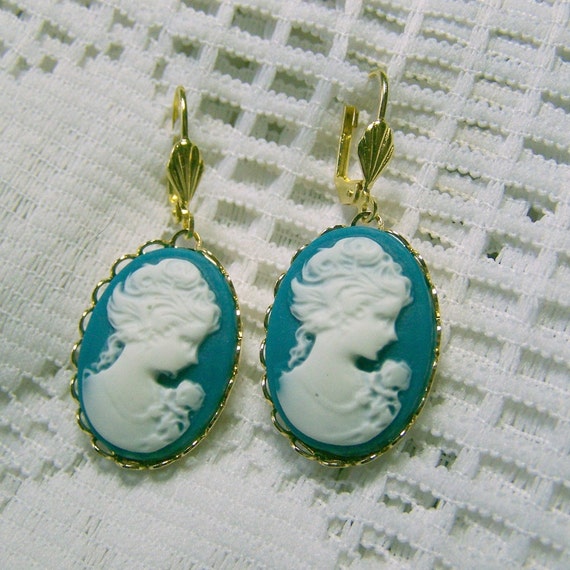 Biscay Bay is another Pantone color for Fall 2015 and if you're into cameos, we have a treat for you!  These Biscay Bay Cameo Earrings by SouthernBelleOOAK show just how beautiful this color is. Inspired by Jane Austen's character, Elizabeth Bennet the earrings were 3D Ivory and Biscay Bay Teal Cameos set in gold plated scalloped lace frames attached to gold plated lever back style pierced ear wires The detail on the cameos is extraordinary.   These measure at 2 1/8″long x 2/4″ wide.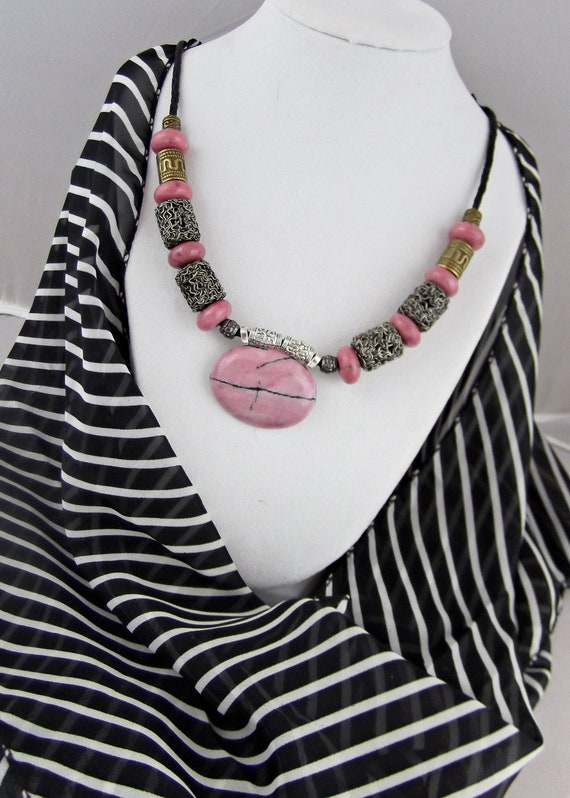 Another Fall 2015 color is Cashmere Rose, which is beautifully shown in this Cashmere Rose Natural Stone Necklace by CJsRocksGems on Etsy.  This gorgeous handmade stone necklace features a gorgeous natural 30mm x 40mm Horizontally Mounted Pink Rhodonite cabochon with metal and stone beads.  The cord is 18″ long and is made of braided black leather with a 3″ extender chain. This unique necklace was handcrafted in Montana and will be a great gift to someone special, or to yourself!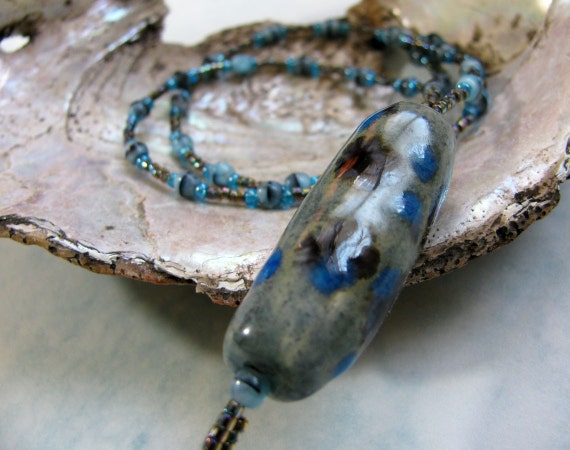 Stormy Weather is another Fall 2015 Pantone Color and this Stormy Weather Handmade Earthenware Necklace shows a great example of this color.  It's by TinaFrancisDesigns, who named this necklace for the beautiful crystal glaze that she used on the hand sculpted beads. It fires with awesome variations of smoky gray, aqua and turquoise. This glaze fires differently every time, depending on where the little crystals fall, so there are always happy surprises. There are 3 handmade earthenware beads on the necklace with the stormy weather glaze. The large organically shaped tube bead is 1 ½" (3.81 cm) long and about ½ inch (12.7mm) wide. Sparkly glass beads in turquoise, silver and smoky blue complement the pendant. The necklace is 18" (45.72cm) long and the pendant, which includes the large bead and the tassel, is 3 ¼"(8.289cm) long. The lobster clasp is sterling silver.