My favorite type of necklace is the statement necklace, which is why I am always busy designing and creating a new statement necklace.  More often than not, to my surprise they seem to sell within days as an in-person sale after having listed them in my Etsy shop for a few days or a week.  I am very grateful for this and it inspires me to keep on creating!
But this post isn't about my statement necklaces, but 20 of the most gorgeous statement necklaces I've seen on Etsy in my searches.  They will leave you breathless!  I'm sure you'll agree that these are glamorous, each bearing its own special uniqueness.  These are all handmade necklaces by exceptionally talented artists on Etsy and their work deserves to be seen!
Mind you, these aren't in any particular order of greatness or rank!!!
1.  Silver Ethnic Statement Necklace by ChickpeaDesignStudio – $64
This necklace is one of the best Ethnic/Tribal Style statement necklaces I've seen.  I'm very impressed by the intricate detail and fine workmanship.  This will definitely WOW people when being worn.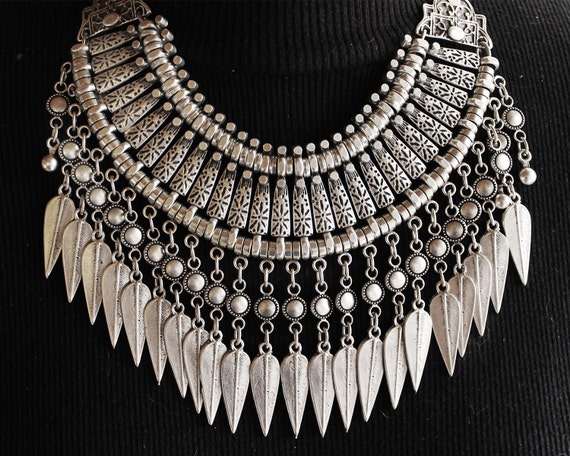 2.  Turquoise Patina Bib Statement Necklace by Gypsymoondesigns – $42
When I saw this, I was immediately in awe of it.  I love the patina look and while it looks rustic, I think it also has a lot of elegance and makes a bold, eye-popping statement.  I can just see it being worn to dinner during a vacation in the tropics.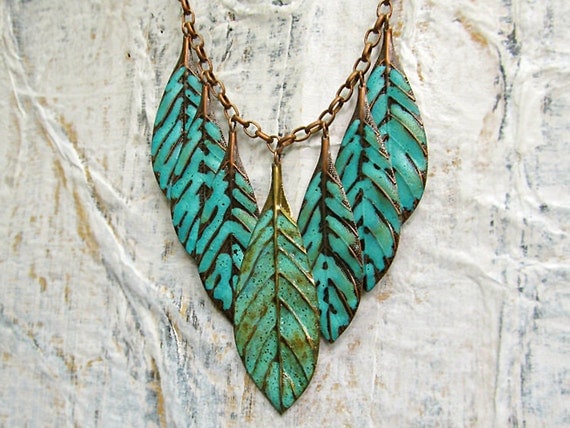 3.  Vintage Assemblage MultiLayered Stacked Statement Necklace with Clear and Grey Rhinestones by myboutiquebijou – $110
This literally made me gasp when I saw it.  I am truly amazed by the detail in this necklace and can't imagine how long it must have taken to make.  Bravo! to the artist who designed this piece, because it is phenomenal.  To me, it almost has a vintage appeal to it and the rhinestones are reminiscent of 80's glam.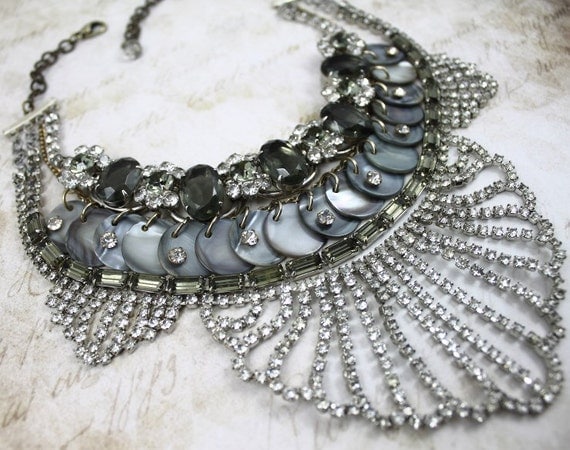 4.  Emerald Green and Rhinestone Statement Necklace by RewElliott – $109.99
Emerald is my favorite shade of green and this necklace reminds me of old Hollywood glamour with its large pear-shaped stones.  It's a wonderfully dramatic statement piece that really took my breath away!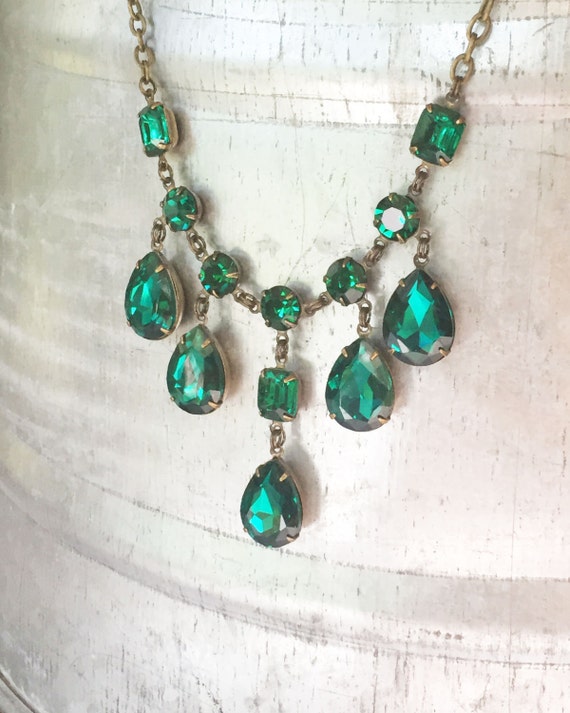 5.  Black and White Statement Necklace by GloriaDolleckJewelry – $75
Black and white is the epitome of class and elegance, in my opinion.  This statement necklace brings you boldness while still maintaining elegance and grace.  The detail in this necklace is divine and it would look absolutely stunning with that elegant black evening dress.  Whoever purchases this will be one lucky lady!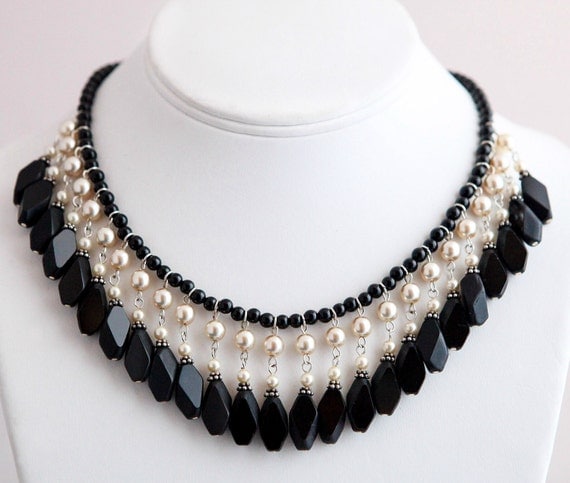 6.  Fabulous Woven Copper & Crystal Collar Aqua OOAK Statement Necklace by sparkflight – $350
I could not believe when I came across this treasure!  I know that wire-wrapping is very time consuming and takes a lot of patience, so I couldn't even guess how long this piece must have taken to make.  This was obviously made by a wire-wrapping expert who knows what they are doing.  It's absolutely flawless and I firmly believe it is worth every penny.  If you're going to make a high-end jewelry "investment", this is the necklace to buy.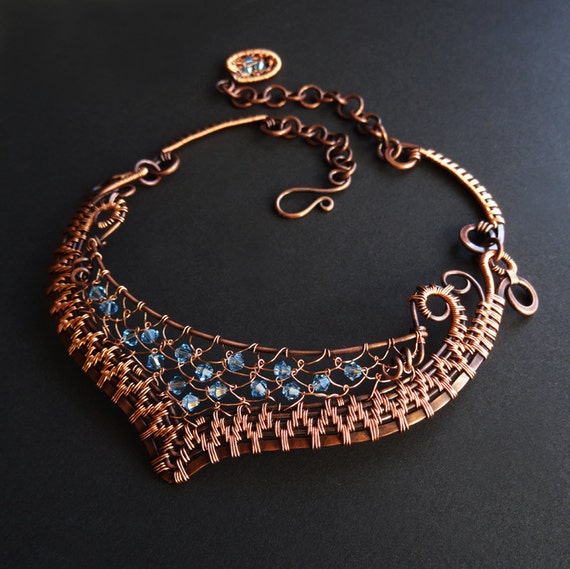 7.  Bike Chain Statement Necklace by UnchainedSeattle – $65
Now how is this for originality and edginess?  I was floored when I saw this awesome statement necklace representative of a bike chain!  Purple is my favorite color, so that was a major plus in my posting this piece.  I've never seen anything like it and I think it is totally cool!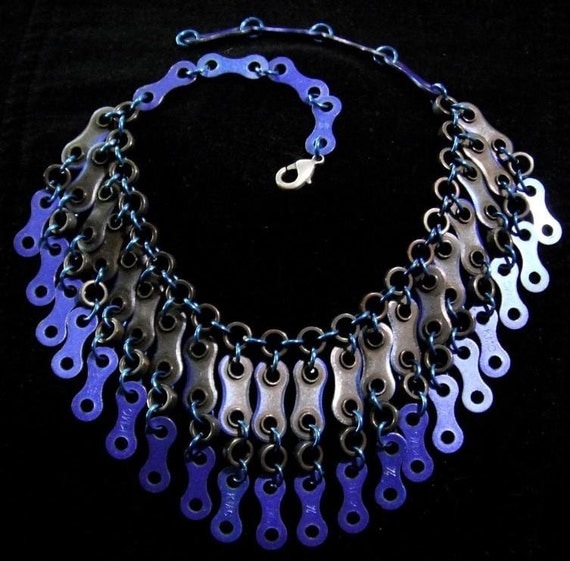 8.  Green and Brown Leaf Statement Necklace by CherylParrottJewelry – $224.95
I posted this necklace because of its exquisite neutrality and the way it is on the simpler side, but it still makes quite a statement.   The leaves are beautifully colored and placed perfectly into the necklace.  This would look fabulous on while having lunch at your favorite winery in the Napa Valley or while doing some weekend shopping in Marin.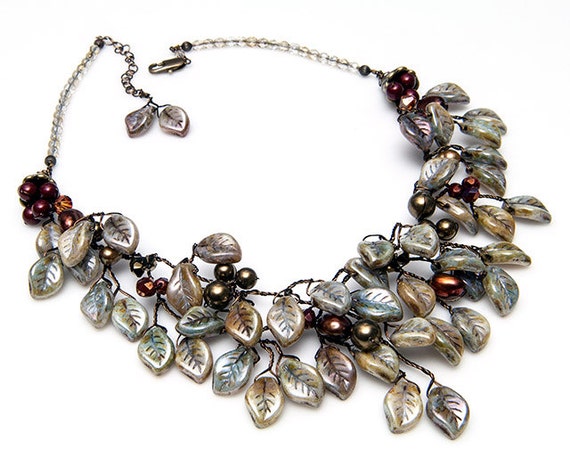 9.  Multi-Colored Hollywood Glamour Bridal Statement Necklace and Earring Set by WhiteAisleBoutique – $82
If you frequent Etsy for glamorous statement necklaces, then I'm sure you're no stranger to White Aisle Boutique and their wide selection of showstopping jewelry.  This is the one statement piece/set that I think is absolutely unique and mesmerizing.  Just look at that combination of colors!  How could one not feel completely spoiled and pampered wearing this beautiful set?  Imagine wearing it on formal night on a cruise, or it would look amazing on a bride for her tropical destination wedding.  But my first reaction was "Rio De Janeiro".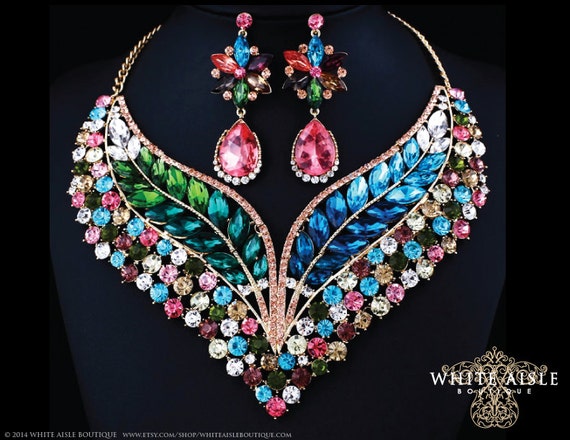 10.  Purple Statement Necklace by InspiredTheory – $35
Like I said before, purple is my favorite color and so this statement piece definitely fits into my favorite 20 statement necklaces on Etsy.  And it's more than just purple, but a beautiful mixture of colors and the stones are just breathtaking!   It's a really fun strand statement necklace that will be a lucky find for someone!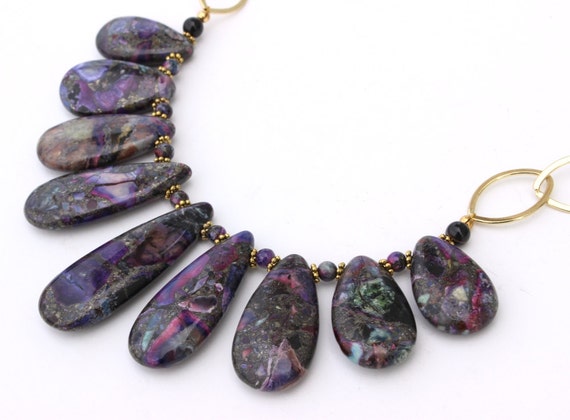 11.  Turquoise Statement Necklace by ZamarutJewel – $48
I just love turquoise statement pieces and this is definitely no exception to the rule.  I love the beautiful beadwork done in this necklace and it reminds me of a necklace to be worn by a Southwestern Empress of sorts.  A very earthy, yet glamorous statement piece.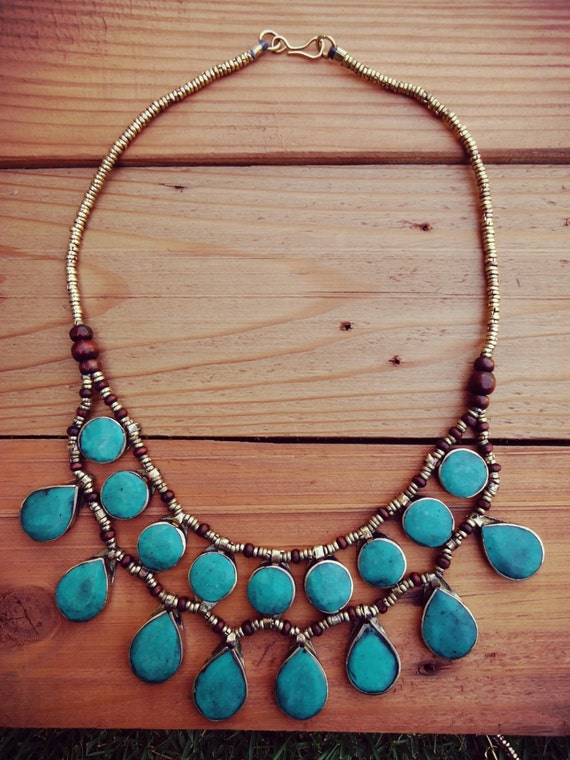 12.  Agate and Smokey Quartz Statement Necklace by Rocktopolis – $104
I think this piece is very cool and I myself love working with agate gemstones.  This has some beautiful stones that go so well with the smokey quartz.  The big rings really add a lot to the piece, giving it a dramatic, sensuous look.  Get it while you can!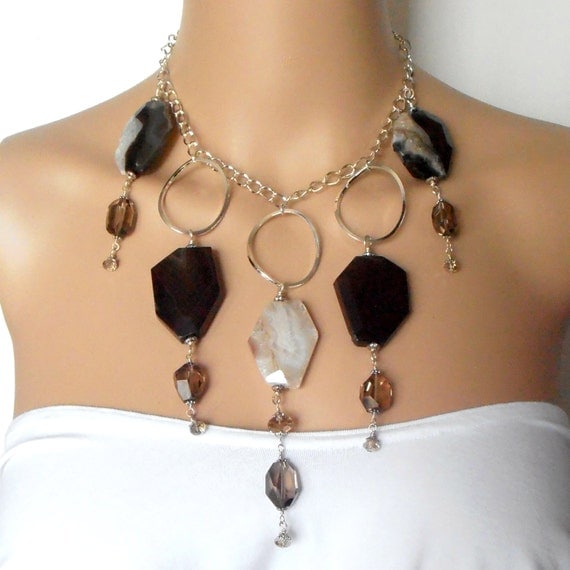 13.  Leopard Bib Statement Necklace by BienBijou – $30
How could this not bring out the animal in you?  This necklace is in my top 20 because it's so "cutting edge" and sexy!  The black really goes well with the leopard print stones and I know there are some of you out there who go gaga for animal prints!  And the price is unbeatable for such a great piece of work!  Don't miss out on this!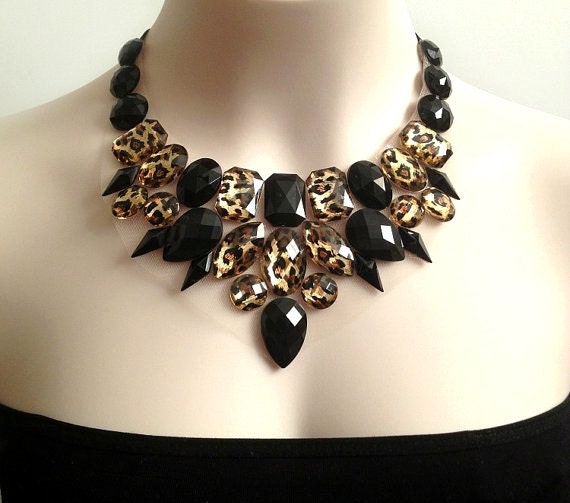 14.  Wire Statement Necklace by MadeOfMountains – $30
I was awestruck when I came across this beautiful piece with its beautiful wire-wrapping and stunning focal piece.  I love the spiral wire-wrapped jewelry and the design is this is just gorgeous.  It's such a unique piece too!  Very rustic and it is perfect for the upcoming Fall season.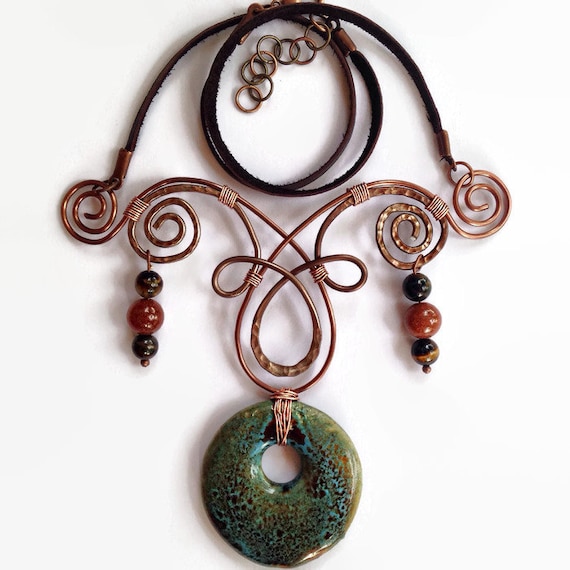 15.  Hammered Gold Statement Necklace by LaurenSpencerJewelry – $24
This necklace really bears the WOW factor, doesn't it?  When you really want to go bold in gold, this necklace is just perfect.  Everything lines up so gracefully and it's a very rich looking necklace that would make Cleopatra jealous!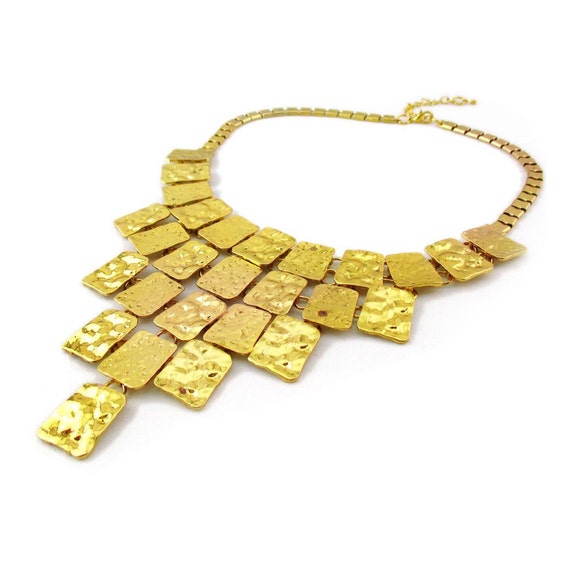 16.  Pink Punk Statement Necklace by JewelryByJacob – $13
This necklace is so cool and what???  Only $13???  Personally I think this should go more for $50+ because come on, how often are you gonna find something like this?  Wendy O. Williams would gag if she saw this great piece of work because it is truly punk eleganza!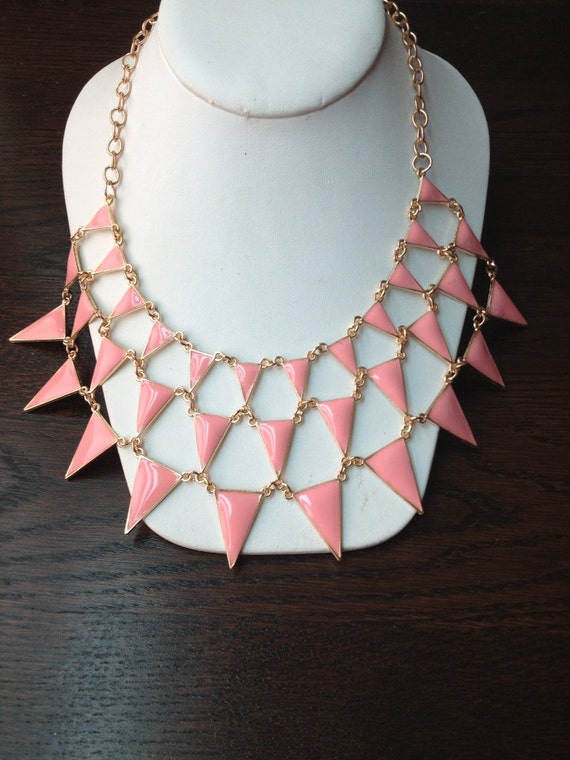 17.  Pyrite Picasso Jasper Egyptian Collar Necklace by ReneesObsession – $39
The colors in this necklace are really what got me and also the perfect symmetry of the stones.  Also a fantastic piece to wear this Fall!  So rich and elegant.  Imagine showing up to Thanksgiving dinner this year wearing this fabulous piece!  You'll be the envy of the dinner table.  Would someone please pass the gravy?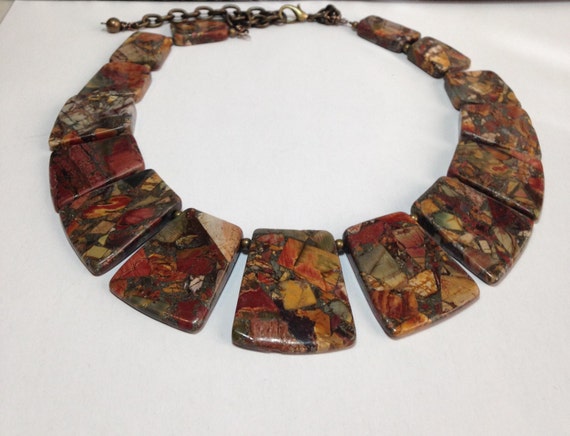 18.  Rose Gold and Silver Statement Necklace by NuSansBijoux – $39
I'm a big fan of rose gold jewelry and the way this necklace combines the rose gold with silver is remarkable.  This is a very unique multi-chain necklace that would look great day or night.  It's very fashion-forward and it's being offered at a great price!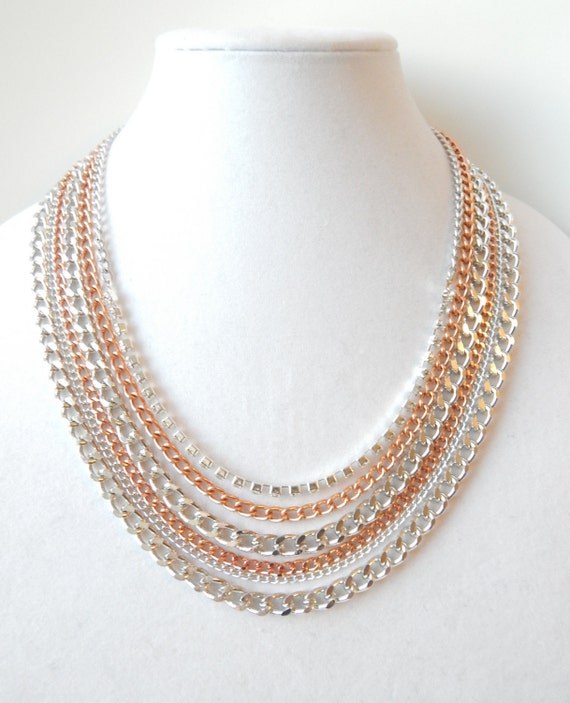 19.  Turquoise Fringe Beaded Statement Necklace by JewelrybyRJ – $69.99
Now who doesn't love some fringe?  This bold fringe statement necklace is stunning and very summery (there's still time to add this to your summer wardrobe!).  This is some beautiful beadwork and it's obvious that a lot of care was taken in making this piece.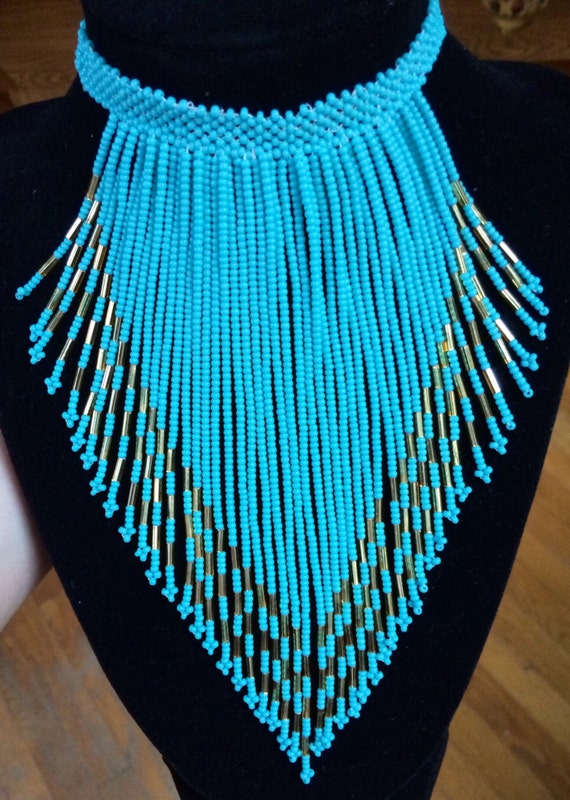 20.  Crocheted Beaded Statement Necklace by EmbellishedNeckline – $40
This is a fantastic statement piece with a design that I find truly breathtaking.  Such a wonderful combination of colors and great selection of stones.  It bears a lot of beach-like qualities and would make a perfect vacation necklace.  Don't miss out on this beauty, get it while you can!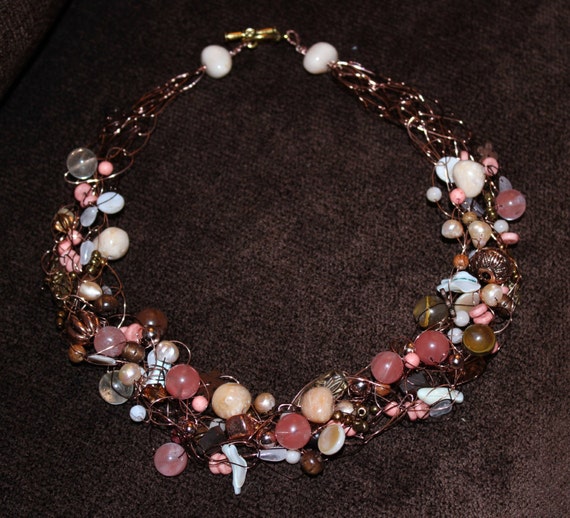 So there you have it folks…my 20 favorite Statement Necklaces on Etsy by some very talented artists.
Also, be sure to stop by Markalino Jewelry to check out my latest work!