This starts off my campaign for Markalino Jewelry gift ideas for the 2015 holiday season! I'm going to be posting gift ideas from my Etsy shop and who knows?  You may find something that catches your eye and will want it for someone in your life.  Christmas, Hanukkah or Kanzaa these Markalino Jewelry items make great, high quality gifts that will last for many years.  Or you can check out all of the jewelry available right here.  And don't forget, I'm offering free Domestic USPS Priority Shipping for the Holidays on all orders through January 7, 2016 with coupon code HOLIDAYSHIPPING
Swarovski Spike Necklace in Red, Grey and Black // 17.5″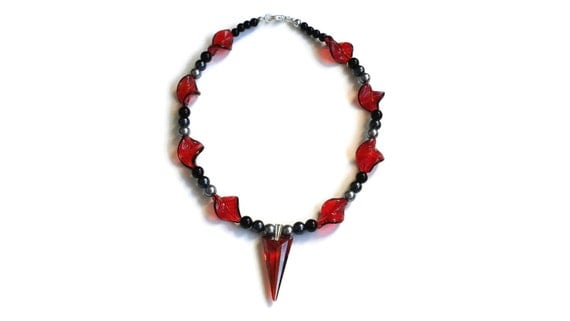 Looking for something totally unique? Well you've come to the right place! This one-of-a-kind Swarovski Spike Necklace in Red, Grey and Black will look stunning and will show off your unique style. The focal piece is a 1.5″ Swarovski Crystal Red Magma Spike pendant held in by a Sterling Silver Bail. The necklace portion has fantastic red and black glass wavy twist beads, with 8mm glass pearls in between in light grey, dark grey and black. The colors are very Art Deco.
I used very strong filament cord to handcraft this necklace and I secured the necklace with concealed crimp beads. I completed the necklace with a silver plated brass lobster claw clasp and ring.
I offer free gift wrap service with this item.