Green Gemstone Statement Necklace in Gold with Amber and Brown Accents // 19 inches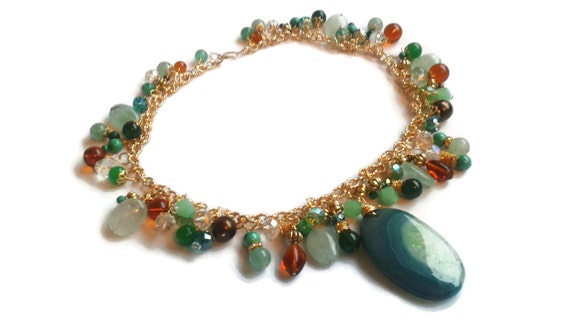 Be the center of attention wearing this one-of-a-kind, handmade green gemstone statement necklace in gold with amber and brown accents. This is a showstopper necklace with a gorgeous Green Druzy Agate focal gemstone. Surrounding it are various green gemstones, vintage amber and clear glass beads, chocolate glass pearls, green and clear crystal beads. The color combination is striking and the necklace sets itself apart from all others. It's a necklace that you can enjoy for countless to come and it will never fail to impress.
I wire-wrapped the Green Druzy Agate gemstone focal piece with 22 gauge gold plated copper wire. Each individual charm on the necklace was handcrafted by me using 22 gauge, gold plated brass head pins. The green gemstones include Green Aventurine, Dark Green Jade, Jadeite, Chrysoprase and Malachite. Gold filigree bead caps and antique gold corrugated beads were incorporated, as well as gold plated brass rhinestone spacers. The charms were connected to a rich gold plated brass twist link chain with sturdy gold plated brass jump rings. I completed the necklace with a 14k Gold-Filled toggle clasp.
The necklace is 19″ in length. If you would like it to be shortened, please indicate your size preference in the "Note to Seller" section at checkout. This service will be provided at no additional cost.
I offer free gift wrap service with this item!